The 11 most popular Road Cycling Passes and Climbs
- in and around Kufstein
Passionate cyclists know what I'm talking about when I say that they would like to experience at least one highlight during their road cycling holiday. For me, this means clearly crossing passes, ideally alpine passes, and preferably in my adopted home Tyrol. Since requirement and fitness level vary, I have compiled a list of all pass roads including climbs in the Tyrolean and neighboring Alps that can be reached from Kufstein.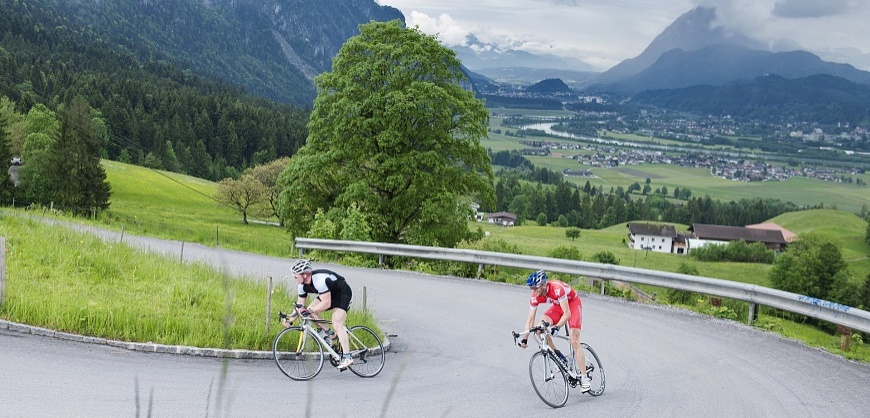 1. Ebbs - Aschinger Alm
Tour data:
Length: 4,8 km
Gradient: 10%
Elevation to overcome: 474 vertical metres
Distance from Kufstein: 8 km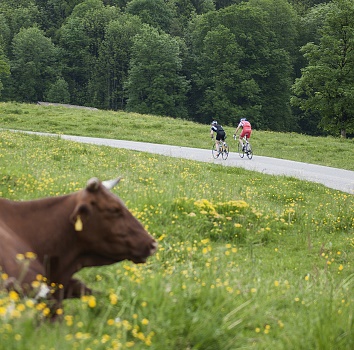 One of the nearest and toughest climbs is right on Kufstein's doorsteps. Starting in Ebbs, follow the well-paved road ahead of you. Leaving Ebbs behind and you get an idea what to expect.

After crossing the alpine pastures and passing the Café Zacherl, you will arrive at a small chapel which is half way up. As a reward you can enjoy the magnificent view over the Inntal Valley.

Then follow the road leading steadily uphill, always bearing in mind a delicious snack at the arrival, the Aschinger Alm inn. To return back to the village, you have to take the same road until Oberbuchberg. From there you can turn right and ride back over the St Nicholas church.
2. Sudelfeldpass from Oberaudorf
Tour data:
Length: 15 km
Gradient: 4,1%
Elevation to overcome: 633 vertical metres
Distance from Kufstein: 10 km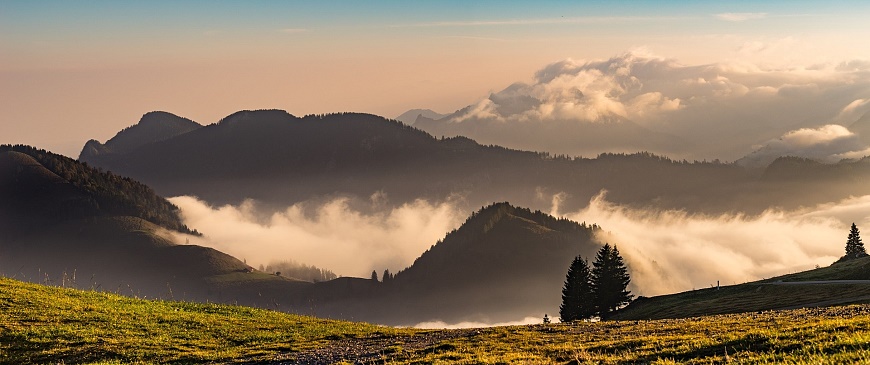 Just 10 km away from Kufstein, the Sudelfeldpass is a MUST for all local cyclists or holidaymakers. The first part to Tatzlwurm is not very steep. But as soon as you turn onto the main road, a great climb awaits you. As an alternative, you can also ride via Grafenherberg. However, with a climb of up to 17% this trail is much steeper. In return, you are rewarded with excellent food at the top. The pass is beautiful from both sides - from Oberaudorf and from Bayrischzell.
3. Great Ride Niederndorferberg
Tour data:
Length: 7,6 km
Gradient: 18%
Elevation to overcome: 503 vertical metres
Distance from Kufstein: 10 km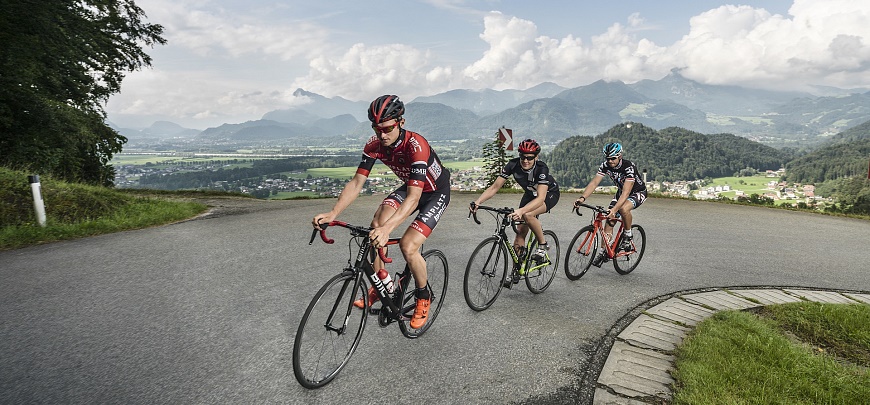 On occasion of the UCI 2018 Road World Championships in Kufstein, the road was signposted for cyclists and fans of overwhelming Inntal views. Between the start in Niederndorf and the finish in Praschberg at Niederndorferberg, various boards indicate the upcoming gradients, kilometres and vertical metres. Again and again you have a wonderful view over the Inntal Valley. Some hairpin bends are most challenging and should not be underestimated. Once arrived at the top, you will be rewarded with an extremely beautiful view that has only been enjoyed by a few. Due to its low traffic, the road is still a kind of insider tip and a great alternative to the busy B175.
4. Landl – Hinterthiersee
Tour data:
Length: 2,3 km
Gradient: 8,6%
Elevation to overcome: 200 vertical metres
Distance from Kufstein: 14km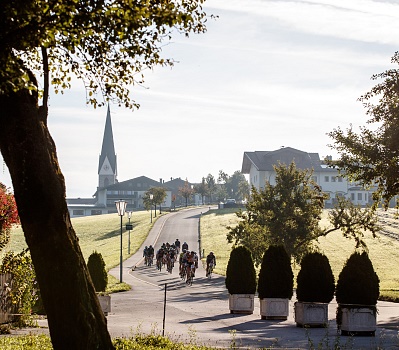 This "brutal hairpin bend" – quoted by Max Kuen, a passionate young professional in cycling - leads from Landl to Hinterthiersee. Some cyclists might have to ride out of the saddle to climb uphill.

In Hinterthiersee you have an excellent view of the Kaiser Mountains. Cycling to Vorderthiersee, it is also quite steep downhill. If you want, you can go for a swim in the Thiersee lake, what I highly recommend!

(However, since the authorities of the road cycle marathon consider the descent to be too dangerous, the part in Thiersee is illustrated in the tour suggestion the other way around).
5. Brandenberg and Aschau
Tour data Brandenberg:
Length: 3,8 km
Gradient: 10,3%,
Elevation to overcome: 400 vertical metres
Tour data Aschau:
Length: 1,4 km
Gradient: 12%
Elevation to overcome: 172 vertical metres
Distance from Kufstein: 30 km
In Brandenberg, ambitious cyclists will find two special climbs. To begin with, you have to overcome the gradient including some nice hairpin bends from Kramsach to Brandenberg. In the high valley itself you feel like being in another world. The pristine Brandenberg is a highlight of the Kufsteinerland road cycle marathon. A short descent allows you to take a breather before you have to overcome a challenging short 12% climb on the other side. Then you leave the valley along the river Brandenberger Ache.
6. Kitzbüheler Horn
Tour data:
Length: 7,8 km
Gradient: 11,8%
Elevation to overcome: 930 vertical metres
Distance from Kufstein: 31 km
The Kitzbüheler Horn is one of the most important mountains. Not far from Kufstein the Kitzbüheler Horn should definitely be on every bucket list. Continuously high climbs make it a hard target that is definitely worth it.

For benchmark reasons, use the installed time measuring device and compare the results online afterwards.

If you still have some power "left in your legs", I recommend riding back over Schwendt and stopping at the cheese dairy to enjoy the delicious products.
7. Kerschbaumer Sattel from Reith
Tour data:
Length: 17,3 km
Gradient: 20%
Elevation to overcome: 630 vertical metres
Distance from Kufstein: 34 km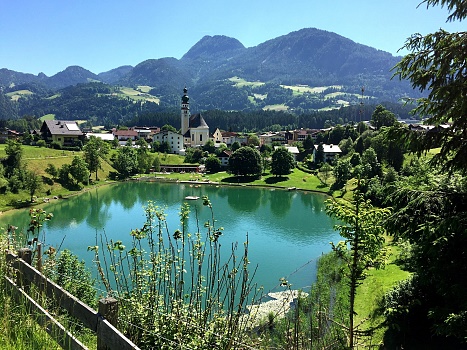 The Kerschbaumer pass is the ideal way to get to the Zillertal without having to travel on the busy main road and is also a nice course.

On a moderate 11% follow the way steadily uphill until you arrive on the pass (Sattel) and enjoy the beautiful view.
8. Winkelmoos (DE)
Tour data:
Length: 4 km
Gradient: 9,8%
Elevation to overcome: 380 vertical metres
Distance from Kufstein: 36 km
In the neighboring German Chiemgau region there are excellent opportunities for road cycling. If you leave the region again for Tyrol, you can turn to the Winkelmossalm at Reit im Winkl. By doing so, you get some extra vertical metres.

Suggestion: Visit Reit im Winkl where the Winter Olympics medalist Rosi Mittermaier was born.

9. Zillertal Alpine Road from Ried
Tour data:
Length: 11 km
Gradient: 10,6%
Elevation to overcome: 1,200 vertical metres
Distance from Kufstein: 49 km
Apparently the Zillertal alpine road is one of the most beautiful alpine roads in Austria. But you have to "pedal hard" to enjoy the view over the Zillertal Alps. First with the arrival from Kufstein, followed by the climb from Ried. But it's worth it! The road charges are also fully justified, considering that you can cycle for 50 kilometres on top maintained roads.
10. Achenpass Südrampe
Tour data:
Length: 2,8 km
Gradient: 3,7%
Elevation to overcome: 106 vertical metres
Distance from Kufstein: 69 km
The Achenpass is one of the smaller and moderate passes. But it's the entire course profile that makes up for it. Actually, only the short part before the pass is really worth mentioning, which can be quickly overcome with riding out of the saddle.

If you ride from Kufstein to the Achensee, you pass by the landmarks Mariastein and Reintaler See lake. The beautiful trail along the Achensee lake towards the German border makes up for the busy main road from Jenbach to Eben. It is highly recommended to take the way back via the Valepp. It's one of the most beautiful cycling trails in this region.
11. Großglockner High Alpine Road from Zell am See
Tour data:
Length: 32 km
Gradient: 5,4%
Elevation to overcome: 1,730 vertical metres
Distance from Kufstein: 87 km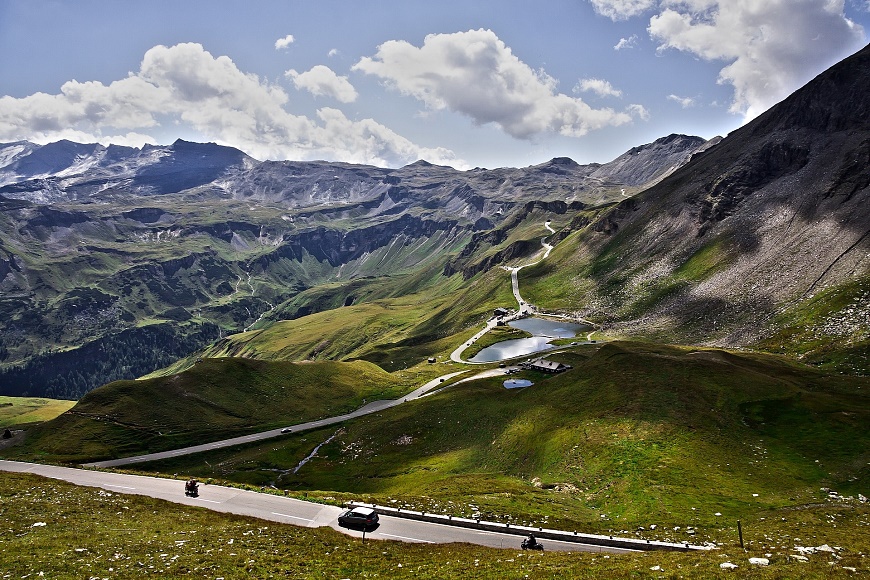 For ambitious racing cyclists the Großglockner high alpine road ranks among the most famous trails worldwide. Although, the long journey of 87 km on partly busy roads is not ideal, it's still worth it once you see Austria's highest mountain in front of you. Cycling steadily uphill until reaching the top with its great view over the mighty mountain at 2,524 metres.
I hope you are now ready for another cycling challenge and wish everyone a lot of fun with pedaling and climbing!