Climbing equipment essentials
Tips from climber Gebhard Bendler
He loves hanging off the craggy rocks of the Wilder Kaiser. He's been doing it since he was 12 years old: Gebhard Bendler is a well-known face in Kufstein's climbing scene. His years of experience (he's now 21 years old) mean that he knows what's important when looking at climbing equipment. We've compiled his helpful equipment tips into a check list.
An overview of the check list:
Shoes
Clothing
Climbing harness
Helmet
Rope
Carabiner
Chalk Bag
Belay device
The shoes – for grip on the rock
They are available in all sorts of colours, with laces or as a slip-on with Velcro: The selection of climbing shoes is enormous. But before buying you should pay attention to a few things. "The appearance isn't important, it's all about the grip on the rock", emphasises Gebhard. Expert advice is also important, and you need to be comfortable in the shoes. There is one rule of thumb: "Sport climbers in gyms generally need climbing shoes that are two sizes smaller than normal. On the rock precise climbing is all important. In Alpine terrain it's enough to get the shoes one size smaller, because you're generally out on longer tours. Spending an entire day in shoes that are too tight is very uncomfortable. In this case comfort is more important. Gebhard Bendler prefers climbing shoes with laces, and has around 5 pairs.
The clothing – equipped for all situations
For longer tours in Alpine terrain mountain guide Gebhard Bendler recommends long pants: "You won't rub against the wall so easily with your foot or knee, and will prevent small injuries." But in the heat of summer he often wears short pants on shorter tours. There are an almost uncountable number of materials: "Today in the gym I wore my cotton pants. But when I'm out Alpine climbing on the Wilder Kaiser I generally wear softshell pants because they are water-repellent and dry quickly. This is a great advantage if you end up being caught out in unexpected showers or storms." Whether you wear a T-shirt of a long-sleeve shirt on top is up to individual taste and based on temperatures. "I've had good experiences with merino wool because the fabric is odour-neutral and dries quickly, just like softshell", reveals Gebhard Bendler.
A tip from the pro: You should always have a lightweight Gore-Tex jacket with you when Alpine climbing. The materials these days are so thin that you hardly feel it on your harness when it's folded together.

The climbing harness – equipment on your hips
Comfort is one thing. Safety is another. Gebhard Bendler explains the different types: "For sports climbing I recommend a lightweight non-adjustable harness. For Alpine climbing on the other hand, where you're out and about all day, comfortable harnesses with wide straps are better."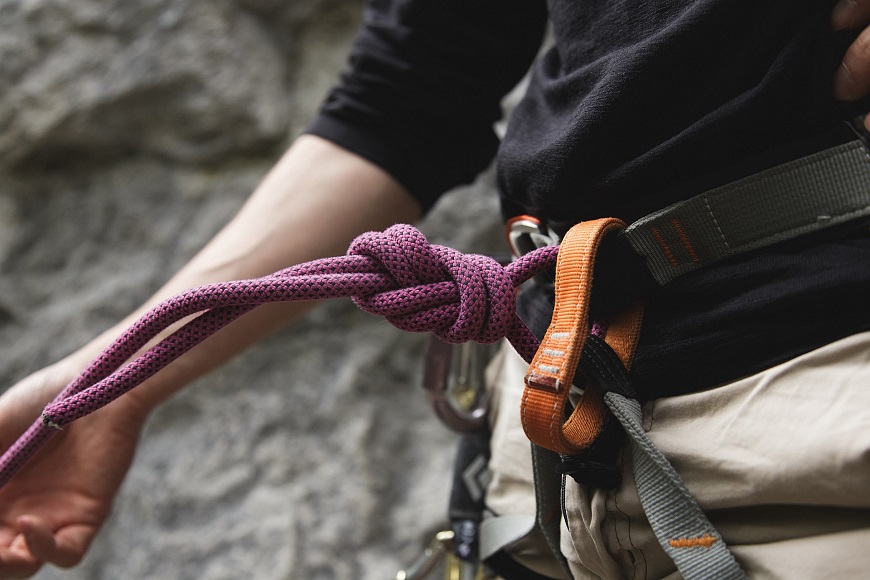 The helmet – safety for the head
For Alpine climbing a helmet is a must under all circumstances. It not only protects in case of falls, but also against rock falls. "On a 300 meter wall a small stone can have the same effect as a projectile", explains Gebhard Bendler.
The rope – from half rope to single rope
"For longer tours I recommend two half ropes, which are relatively thin. If one rope is damaged by a rock fall then you always have one more as a reserve. This means double the safety! The half rope also has advantages when abseiling: You can use the entire length. A half rope should be 50 or 60 meters long, a single rope for sports climbing in a gym around 70 meters", days the enthusiastic climber.
The carabiner – safety equipment
A small carabiner with snap gate connects the rope with the bolt in the wall. "You need about 10 quickdraws in a climbing gym. I always have a few spare with me for long tours or simply just in case. For Alpine climbing, where weight is more important, you should first check the guidebooks to see how many are recommended. For many modern tours this is stated. For easy Alpine classics 5 quickdraws are often enough", says the mountain expert.
The chalk bag
A loyal companion, especially in the climbing gym: "The magnesium in the chalk bag is important to soak up sweat on the hands. Without magnesium the sweat creates a film between the hand and the rock, making it easier to slip and lose grip. On easier Alpine tours with large water-corroded grips you don't necessarily need to take it. There the rock is rough enough that you have good grip even without it." The chalk bag is worn on the hip, so that you can dip your fingers in the chalk easily.
The belay device for all situations
The belay device supports four functions: "When lead climbing and securing the route you let out the rope, when belaying the second climber you pull it back in. If a climber falls then they will be caught on it, and can then be safely lowered down."
Have you got everything?
Have you ticked off all the "to-dos" on the check list? Then it's time to head outside. There are exciting tours with fantastic panoramas awaiting you on the Wilder Kaiser. With this in mind: "Glück auf" and "Berg Heil!"